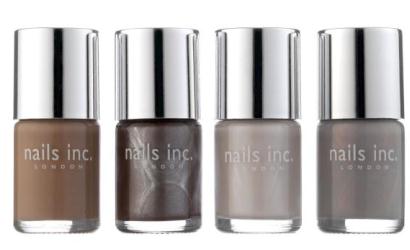 A-Listers Collection
In January, the lovely people from Nails Inc will release a couple more neutral nail polishes after the demand for them was so high.
They will launch 2 individual colours: Hampstead Gardens (honey neutral) and Holland Park Avenue (classic taupe) which you can get for their standard price of £11.
Nails Inc will also be launching a new 4-piece collection consisting of neutrals with metallic and glossy finishes called "A-Listers Collection" that you can have for £25.
My Thoughts
I like the idea of more neutral colours, although I still don't agree with that steep price for the individual polishes – I do like that they will make a collection of 4 colours for £25!!! But I find that a lot of nail polish manufacturers are lacking neutral colours, so I am definitely agreeing with this move!
Will you buy these? What do you think of neutral nail colours?
Much love,
Miss drifted Snow White
♥♥♥
Follow on Twitter | Facebook | Bloglovin | Instagram | Blog-Connect