Hi guys, 
It's me again – Lods, The Guest Blogger! Today I'm going to go over the shaving aspect of male grooming, giving a few suggestions and telling you what I use, going right through to before during and after.
Pre-Shave
As mentioned in
my previous post
, I am a fan of the
Simple For Men Hydrating Face Wash
. I'ts £3.99 for 150ml at Boots and is kind to skin and makes the perfect pre-shave wash. If you need to scrub, I also mentioned the
Dove Men +Care
line in my previous post, and the body wash with little exfoliating beads makes a great gentle face scrub. However, I would say if you are going to scrub your face, do it the night before shaving to allow your skin a little time to recover before taking a blade to it.
For blemish prone skin,
Clinique's Scruffing Lotion
is good too, softening the bristle and helping to fight blemishes. It is however, a tad drying, so if your skin is on the dry side, best not to use it daily as prescribed. This is a bit pricier at £14.30 too, but
is worth it if you get blemishes but still need to shave frequently.
Shaving
Razor: The razor I use is the King of Shaves 'Azor Hydrating Synergy System Razor, as it offers a great shave a good value too. The Azor is a four blade razor with a sleek, cut down handle that offers exactly what is needed and nothing more. The 'living hinge' keeps the blade close to the skin without being too wobbly, which has always been one of my criticisms of the Gillette offerings. It is available for £4.49 from king of shaves direct, and comes with a handle and 3 cartridges. As with the product the packaging is the bare minimum, a simple card and plastic offering. 8 cartridges are £8.54 from the same place, slightly more from high st chemists and supermarkets. The cartridges last a good while, and the moisture strip lasts as long as the gilette's. With the cartridges being less than half the price of the fusion power, I plump for the Azor every time. Back in the day I used to use Gilette's Mach3, but time has moved on, and there are now a bewildering number of multiblade razors on offer. My second favourite razor on the market is the Gilette Fusion Power. The razor is a good solid bit of kit, which feels well made and sturdy. It has five main blades as well as a single one at the rear for 'precision trimming', and glides well over the skin, for a smooth and comfortable shave. The razor also vibrates, which the ads say does something sciencey to improve the shave, and although I can't attest to the science, it does give a very good shave.
Shaving Gel: I use King of Shaves's 'AlphaGel' Sensitive Skin Cooling Menthol for shaving gel. At £3.59 they lubricate the blade well, and are clear so you can see exactly where you are shaving. The cooling menthol leaves the skin feeling refreshed and tight too, and I would not use anything else than KoS alphagel to shave with, though if anyone has a recommendation, please leave it in the comments below! They do 3 or 4 variations of this shaving gel.
Post-Shave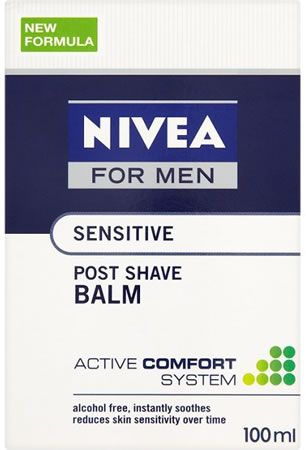 After shaving I rinse off in warm water, before splashing with some that is icy cold to tighten up the skin and close out the pores. Immediately after this I splash on the Nivea For Men After-Shave Sensitive Balm. This balm is soothing and leaves the skin feeling refreshed after the shave, and is £5.57 from Boots for a 100ml bottle.Be careful with this balm though as it is quite thin compared to a normal moisturiser, so if you're not careful it can go all over the place. However, this balm is great for sensitive skin, and calms down any razor burn or discomfort immediately. 
Following this I like to use the Simple For Men Hydrating Daily Moisturiser, available at boots for £4.99 for 50ml. It has a good skin feel and moisturises well, and as with all simple products, is great for sensitive or problem skin. My other recommendation in this category is the Yves Saint Laurent's Healthy Look Moisturiser from their L'Homme line. It's a terrific moisturiser with a slight tint to it, great in these cold winter months to give you a slightly healthier look. It is also fragranced with a light hint of YSL's L'Homme, which is a terrific fragrance. However, it is £25 for the 50ml bottle, and the pump dispenser means you can't quite get the entire contents out of it. 
I hope you enjoyed my 2nd post. Please leave your thoughts in the comment section below, I'd really appreciate it!
Much love,
♥♥♥
Follow on Twitter | Facebook | Bloglovin | Instagram | Blog-Connect